What's happening in February half term?
What's happening during February half term at Cornwall's top tourist attractions?
Cornwall's top tourist attractions will be offering plenty of family fun this half term, as visitor attractions across the county reveal the activities they've lined up.
For holidaymakers and locals looking for something to keep the kids amused during the school holidays, there's a feast of fabulous fun to pick from – from Moomin at Eden to explorer trails at Pendennis Castle, from science with a bang at the NMMC to creative clay at Wheal Martyn!
Here's some of the best half term activities in Cornwall, running from 19-27 February 2022. Dates and opening times may vary so visitors are advised to check attraction websites before visiting.
EDEN PROJECT
Moomin at Eden
Saturday 19th- Sunday 27th February 2022
9.30am- 6pm
Join the Eden team to play with words and have a tour of the magical Moominvalley this February half-term as part of the Eden adventures with Moomin.
Come along to Eden to see the beautiful Moomin-illustrated ABC Exhibition, helping children to explore their emotions, and follow the Meet the Moomin trail to learn more about all the much-loved characters from the Moomin books.
Enjoy immersive and interactive Moomin-inspired storytelling, flex your creative muscles at our Moomin craft station (during the weekdays) and settle in to see a mischievous puppet show over both weekends (19-20 and 26-27 February).
Most activities are included in the price of admission, apart from the puppet show which should be pre-booked at an additional cost. Craft activities will run from Monday 21 – Friday 25 February, with drop-in sessions from 11am until 3.30pm.
Please note pre-booking remains essential, including those with valid Membership, Locals' Passes or Annual Passes.
PARADISE PARK
P-p-p Penguin Quiz
Saturday 19th- Sunday 27th February 2022
Take the family for a fun day out and enjoy wonderful wildlife plus fantastic kid's play areas.
Learn some fascinating penguin facts while completing the 'P-P-P-Penguin Quiz' and claim your reward. The Park have 21 Humboldt's Penguins of all ages, including Peaches, Paloma, Lowen, Pedro and the wonderful Houdini to name a few.
Discover the huge JungleBarn indoor Play Centre where you can walk the rope bridge, climb the nets, fly down the slides, and the little ones can try their hand at the dancing balls in the toddler's zone.
Daily events include two sessions for otter and penguin feeding.
There are 150 little bags of 'Goat and Sheep Food' given away each day and look out for the donkeys Jasmine, Basil, Lily and Periwinkle down on the popular Fun Farm, which also includes a walk through 'Pets Corner' with super cute rabbits and guinea pigs.
Booking is essential with various ticket options to choose from, 'Park Only', 'Park & JungleBarn Play', or the late 'JungleBarn Play Only Afternoon Session'.
PENDENNIS CASTLE
Half Term Explorer Quest
Saturday 19th- Sunday 27th February 2022
Get fit for history this half term with our outdoor explorer quest at Pendennis Castle. Track down the fun-filled challenges around the site and get active in the fresh air.
NATIONAL TRUST COTEHELE
Story-time and puppet making
Saturday 19th- Sunday 27th February 2022
Visit Cotehele throughout February half-term to snuggle up and hear your favourite Percy the Park Keeper stories read aloud. Readings take place at 11am each day in the second-hand bookshop.
NATIONAL MARITIME MUSEUM CORNWALL
Science of the Sea
Monday 21 – Friday 25 February, 11am , 12pm, 2pm and 3pm.
This is family fun with a BANG! Bristol Explorer Dome are back with more science shows, and they're on the hunt for creatures that use bubbles to survive on the Museum Trail. In Make & Take you'll be using science to create colourful artworks.
A family science show suitable for adults and children aged 5 and over, but all are welcome.
Explore the science of water, the nature of atoms & molecules and how they can be solid, liquid or gas. Liquid nitrogen and dry ice illustrate states of matter and we'll investigate weird and wonderful seas of fire and ice on other worlds. Split H2O into an explosive mixture and consider hydrogen as a fuel of the future. Bring your curiosity and questions for Explorer Dome's expert science presenters. Expect plenty of audience interaction, freezing fog, fire and BANGS!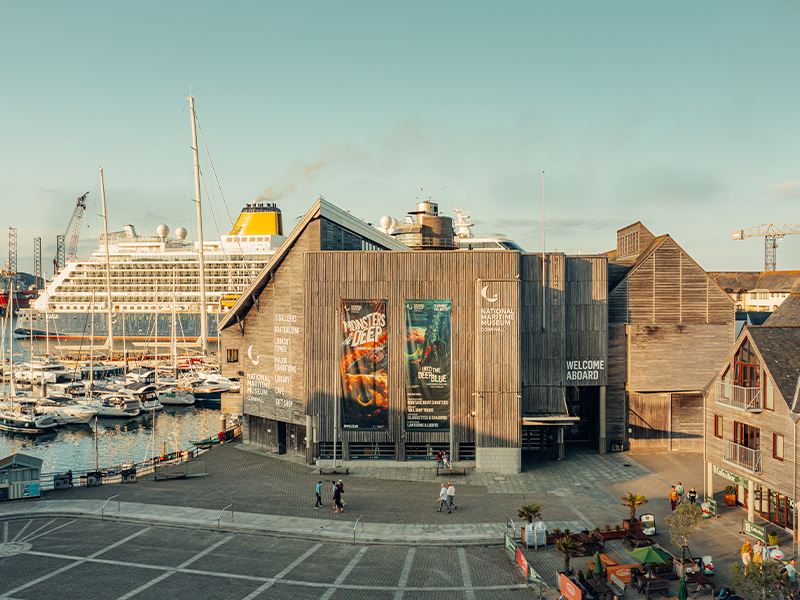 CORNISH SEAL SANCTUARY
Pup Party
Saturday 19th- Sunday 27th February 2022
Meet the rescued seal pups, take part in a scavenger Hunt, enjoy a traditional Dog Agility and Dog Show as well as get involved in the raffle and charity stall days during half term.
THE LOST GARDENS OF HELIGAN
Love Heligan
Saturday 19th- Sunday 27th February 2022
February is traditionally the month where a celebration of love and affection takes place across the world and what better venue than one of the most romantic gardens in the world to come to for half term, to celebrate and reconnect with what you love.
2022 signifies 30 years since The Lost Gardens opened its gates to the first garden visitors, many of whom have revisited and fallen in love with Heligan during this time. 30 years has seen four generations discovering The Lost Gardens of Heligan, with a magic and a story that sparks curiosity in us all, encouraging a connection to the natural world and each other.
Visitors say that they Love Heligan for a variety of reasons, whether it be the restoration story, the horticultural prowess, the adventures to be discovered in the Jungle, the irresistible animals, or the year-round invitation to create memories as you explore nature's playground.
This half term Heligan will be sharing what their team Love about Heligan; the garden secrets, favourite views, times and spaces, and the healing powers of The Lost Gardens. As you take in their stories, the Heligan team invite you to share your own with them too.
NATIONAL TRUST TRENGWAINTON
Wakey-wakey Trail
Saturday 19th- Sunday 27th February 2022
As the plants stir from their winter slumber, you can too with Trengwainton's fun Wakey-wakey garden trail.
Can you stretch like the bulbs pushing their way up through the soil, or uncurl like the fronds on the giant tree ferns? Perhaps scampering like a squirrel is more your thing, or getting a wriggle on like the worms?
Follow the trail around the garden and you can have a go at all these challenges and more, as well as spotting the signs of spring.
WHEAL MARTYN
Creative Clay
Monday 21 – Friday 25 February Time: 10.30am – 3pm
Get crafty this February half term with painting, making and creating activities inspired by the story of china clay mining in Cornwall. Make your own clay miner out of air drying clay or paint a ceramic, to take home with you.
Further details: Book online or drop in.
Price: £4
"We're delighted that all of our attractions are offering such a varied and exciting programme of events this half term, and hope visitors enjoy all of the treats on offer."

Jon Cummins, Chair of the Board of Directors at Cornwall Association of Tourist Attractions,
Discover full details of all of these events on our Events page.
Visitors to Cornwall's top attractions can be assured that appropriate COVID-19 safety measures will continue to remain in place, and all attractions will follow recommended government guidelines.